Still a great environment to be in since our last visit. Everyone is super friendly here. But enough about the people, we're all about the beer here!
Started with the bourbon barrel aged cherry chocolate porter.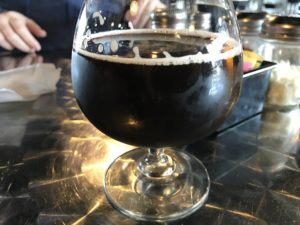 If you go back to when we visited a little while back, we had a "sneak peak" of this one minus the bourbon barrel aging, and it's just as delicious now as it was then. The bourbon barrel is very subtle, and I think I would like it to be a little more present up front, but it's still delicious. Thumbs way up.
Number two is the Golden Ale.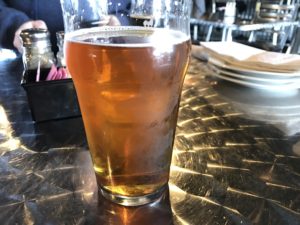 Easy hops up front, malty, easy drinking. One of the most popular beers here, but it is a 5.5%, so perhaps just outside of session territory. Thumbs up.
Number three is a new beer called The Dude.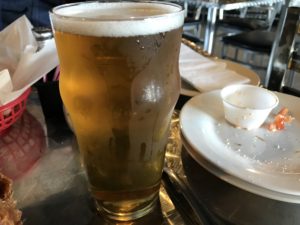 This beer is a beer they admittedly target to "macro light beer drinkers." Smell is super faint, slightly malty. Flavor, for better or worse, is very similar to a macro light beer. I'd choose this over Bud Light, but I'd choose any other beer they offer over this. That only means it's not for me. Verdict: meh
Number four is their stout on nitro, Stout n' About.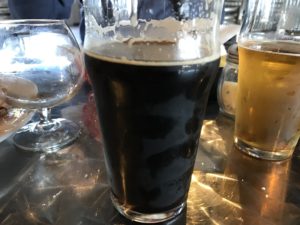 Anyone that knows me and knows the show knows I'm not a fan of any beer on nitro, but this is a slight exception to that rule. My argument against nitro is that it kills the flavor in the beer, however PBW has managed to maintain a bit of flavor in this one. It hasn't swayed my opinion on nitro beers, but it has shown that maintaining some flavor is possible by a brewery that really tries.
I think if I had a chief complaint about any of my (frequent) visits to PBW, it's that they always have relatively the same beers on tap, with two or three different beers, one or two of those are a guest tap. It seems that PBW has gotten comfortable with their popular beers, understandably so, so they've had trouble going outside the box. The bourbon aged offerings are fantastic, but the main staples of the Irish Red, IPA, Robust Porter, Golden Ale, and Orange Blossom ale are sort of growing stale.
I would love to see some variation and expansion on what put them on the map. Still a wonderful place to visit with a great bunch of guys and gals, but I find myself longing for more. That said, what they do offer is a great environment and terrific beer, no matter how bored I may have become with the "staples."
Overall experience: thumbs up.